BUNK BED TRAILERS
We offer Bunk Bed Trailer Models in several sizes and with Key Features…
These trailers have individual beds with privacy curtains at each bed.  Also, every bed includes a phone shelf, an electrical receipt, and a reading light.  Additionally,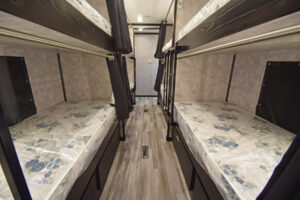 upgraded spring mattress provides cool sleep, rather than a hot foam bed pad. Also, floorplan models of bunk trailers include several space saving designs.  The trailers begin with a six-bed trailer and offer much larger variety of multi-bed floor plans.
Additional Value Features Available…
Importantly, the bed trailers remain comfortable with climate-controlled temperature. For example, the trailer features roof mounted air conditioning.  While the trailer remains warm in colder climates with electric or gas heat.  Conveniently, an optional a restroom can be built into most floor plans along with an optional shower.  Finally, a large waste holding built in tank is offered with the bed trailer. Additionally, more value features shown below.
Firstly, available restroom with sink & toilet or shower.
Secondly, under bunk storage drawers is optionally available.
Thirdly, bunk trailer privacy curtains.
Fourthly, additional electrical receipts optionally available.
Fifthly, mattress bunk beds are upgraded spring beds.
Sixthly, coat hooks standard in bunk bed trailer.
Seventhly, coat closet or storage closet on most floor plans.
Eighthly, individual windows and most bunk locations.
Privacy shades on bunk room trailer windows.
Large waste holding tanks available built into trailer.
Finally, additional air conditioning systems available.
The six man bunk bed trailers include 8 individual beds with spring mattresses and privacy curtains.
The ten man bunk bed trailer includes 10 individual beds for the man camp or for emergency response locations.
The fourteen-man bunk bed trailer offers an optional restroom at the rear of the floor plan.  With plenty of bunk bed space.