COMMAND RESTROOM TRAILERS
Many disaster relief locations utilize the command restroom trailers.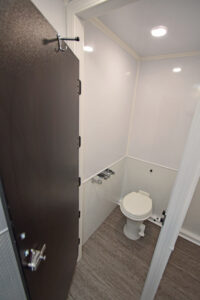 We offer restroom trailers ranging in sizes from 2 stations to 15 stations. Without a doubt, the trailers provide relief at hurricane disaster sites and wildfires. Additional relief is found with the restroom trailers at tornado disasters and flu epidemics. And importantly, the mobility of the restroom trailer allows for quick response to many remote locations to provide sanitation.
RESTROOM TRAILERS FLOOR PLANS
Importantly, the restroom trailers for sale utilize many sized floor plans.  For example, a two-station trailer includes two private rooms which can be used by male or female.    If the emergency relief requires more stalls, a ten-station trailer might work to solve the requirements.  Additionally, trailer models range through four and five station models.   Also, while most events do not need larger than a ten-station, some models can be built and offered for sale, with more urinals.  Therefore, this allows for more male dominated events such as construction crews.
KEY FEATURES OF THE RESTROOM TRAILERS
Key features of the command restroom trailers include waterproof and mold proof materials used in construction. For example, poly base cabinets and vinyl trim packages finish the interiors. Also, the interior finish provides an easy to clean and maintain.  For example, waterproof flooring and non-slip rolled finish goods are used. A fiberglass interior, exterior, and roof build a durable waterproof finish. Finally, standard models feature solid surface countertops with porcelain sinks.  If a rugged site requires a tougher interior, an industrial package may be the answer.  For example, dent resistant stainless steel makes up the countertops.  Also, stainless steel mirrors adorn the walls.  While the vanities remain constructed of a water and dent resistant aluminum tread plate.
TO SEE MORE RESTROOMS VISIT RICHRESTROOMS.COM.
Ready to find out more?
Drop us a line by clicking the Contact Us button today for a free quote!