DRUG TESTING TRAILER FLOOR PLANS
The drug testing trailer floorplans consist of floorplans to effectively test employees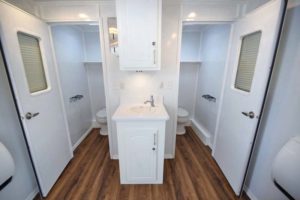 for drugs and alcohol.   Functionality is the key to the drug testing trailers.  Importantly, the trailer operates with a private restroom which can be monitored.  Firstly, the clients enter a private room with water-controlled toilets.  Above all, by controlling the water supply the clients' chances reduce of providing a diluted urine test.  Also, an observation window located in the door allows monitoring from outside of the testing room. Additionally, a mini-blind covers the window for unmonitored tests. Additionally, the trailer provides room for office staff to check in clients and record tests.  As a company, the employee is quickly tested with results available in a short time.
ADDITIONAL FEATURES OF TESTING TRAILER
Similar to other trailers, the drug testing trailer is climate controlled.  Which means, an air conditioner is mounted on the roof to provide cool air.  Additionally, within the drug testing trailer floorplans, electric heaters provide the needed warmth.  Alternatively, the gas furnace heats the drug testing trailer.  For customer convenience, a bench seat allows a sitting are for a waiting client.  While an electrical shore cord connects power to the trailer, an optional generator can be located on the trailer tongue.  Also, liquid propane bottles offer a fuel source for the optional gas heat.  Additionally, floor plans of the drug testing offer more testing rooms for the larger client use.  Choices of decor highlight a modern contemporary look.  Finally, more specialty trailers can be found at Rich Restrooms web site.